This post contains affiliate links. If you click on any of these links to make a purchase, I may earn a small commission at no extra cost to you.
If you want to create a South Africa travel plan, you are already aware of why everyone should visit South Africa! If you find the planning process slightly daunting, don't worry! Our South Africa travel guide will help you consider your travel options based on your budget and travel preferences. 
We will cover some of the essential elements of a trip to South Africa, including when the best time is to visit South Africa and what to pack for a visit to South Africa.
This article shows you the steps you can follow to plan your trip to the southernmost point of Africa! 
Let's get planning!
1. Where to Go in South Africa
South Africa has a lot to offer. Where should you go? What should you do? Your options range from adventure activities to spending time in nature or learning about South African culture. Don't add too many activities to your trip schedule; instead, make sure you plan a return trip! 
Before we continue with the planning process, here is a map of South Africa. If you are not familiar with South Africa's geography, you can use this map to find the places we mention in this article. 
Start by looking at the map. You can enlarge it by clicking on it, and you can then zoom in to control the size of the map. 
South Africa has 9 provinces. The two most visited cities are the largest in South Africa: Johannesburg (in the Gauteng province) and Cape Town (in the Western Cape Province). Other popular destinations include Kruger National Park in the Mpumalanga province, Durban in the KwaZulu-Natal province and the Garden Route in the Western Cape Province. 
Here are articles with more information on the various destinations in South Africa:
2. When To Visit South Africa?
You can visit South Africa any time of the year! South Africa has a moderate climate in most provinces, and there are specific regions in South Africa where the weather may be hot and humid in summer and dry and cold in winter. 
Read more about Cape Town's weather here, or learn about Johannesburg's weather and what to wear!
Spring (September and October) and autumn (March and April) are the best months for your South Africa travel plans. Although there are still school holidays and peak times during these months, it is much quieter than the peak season during the summer months (December and January), when most South Africans take a holiday. If you travel to South Africa during spring and autumn, you can find good deals on tours and hotels, but it may be more challenging in the peak season. 
When you create your South Africa travel plans, it is good to research what to expect during your trip to South Africa. It's helpful to know about significant holidays and celebrations, since this may affect your transportation and accommodation costs. 
Click here for more information on the best months to visit South Africa. 
3. Going to South Africa with A Tour Group or Planning Your Own Trip?
Decide whether you want to make your own arrangements or use an organised tour. Arranging your own trip to South Africa is easy and satisfying. However, if you prefer someone else making all the plans to allow you to show up, here are some of the packaged tours you can choose from: 
If you make your own arrangements, finalise your South Africa travel itinerary as early as possible – preferably 12 months before your departure date, but no later than 6 months before your departure date. A completed itinerary tells you what flights you need to get to South Africa, your transport needs within the country, and the destinations where you will need accommodation.
If you decide to book a packaged tour to South Africa and the tour package includes flights, continue to step 8. For package tours where you need to book your flights to South Africa yourself, continue to step 4. If you make your own travel arrangements, continue to step 5 for information on accommodation and local transport options in South Africa. 
Click here for a 10-day garden route itinerary for families!
4. Getting to South Africa – Booking Your Flights
Unless you are first visiting a neighbouring country, you will most likely fly to South Africa. You can find cheap flights to South Africa from the world's major airports to any of the two major airports for air travel into South Africa: Johannesburg and Cape Town. 
It is best to book your flights to South Africa 6-12 months in advance to ensure you get the best deals to save significantly on your travel costs. If you plan to visit South Africa during its peak season (December and January) or school holidays (especially during Easter), you may need to book even earlier.
Getting to South Africa is easy, as there are several daily flights from all continents. Although direct flights exist, many airlines have a layover for flights to South Africa.
There are some ways to find cheap flights to South Africa if you can be creative in searching for the best flights. To find the best flight deals to South Africa, we recommend using CheapOAir. It is an aggregation search engine and can compare all the flight options available for your trip to South Africa. Click here to search.
5. Where to Stay in South Africa – Booking Hotels and Other Types of Accommodation
As soon as you've booked your flights to South Africa, start your accommodation bookings as well to ensure you get the best prices. Make sure you finish your hotel bookings at least 3 months before your departure dates. 
You have many options for accommodation in South Africa. You can choose between budget accommodation options or opt for more luxurious experiences. When you create your South Africa travel plan, you will find accommodation options to suit your budget and preferred accommodation types, regardless of the destinations you want to visit in South Africa.  
Planning a trip to South Africa is easy because of the extensive range of accommodation options available at all budgets. In South Africa, you can find hotels, hostels and self-catering options.
You can find plenty of budget hotels and hostels if you want to spend as little as possible. The budget hotels are clean but offer basic facilities only. 
Midrange accommodation options are excellent and are what we usually book when travelling through South Africa. This type of accommodation gives you a good balance between facilities and price.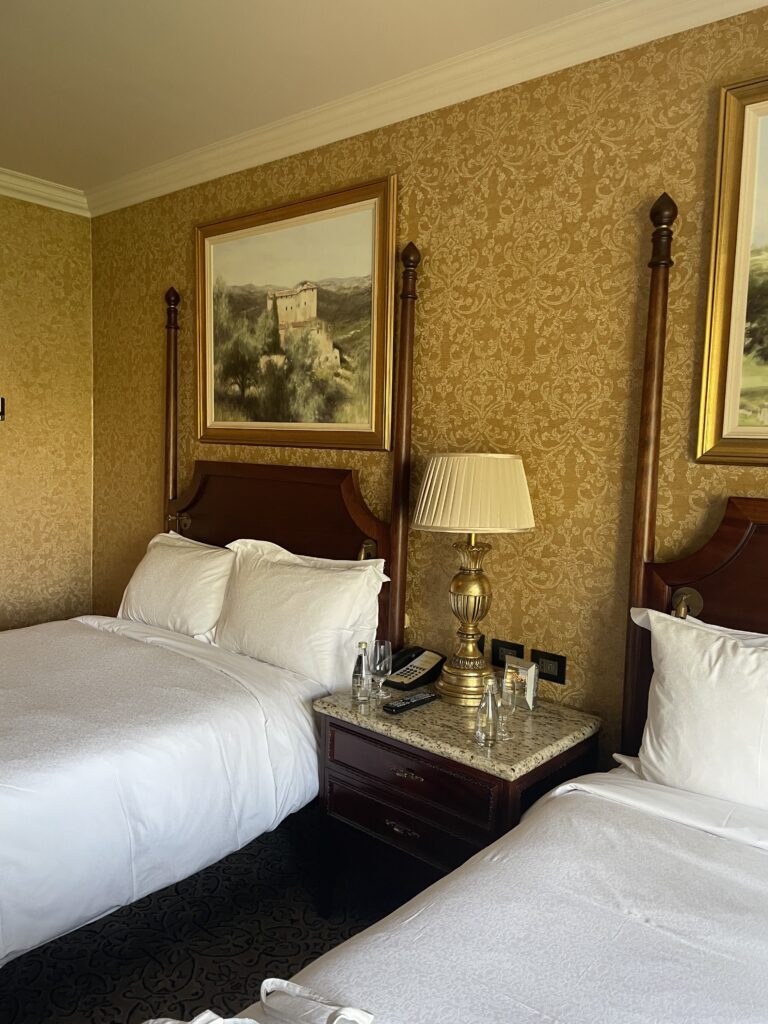 On the upper end, there are incredible accommodation options if luxury travel is what you desire. You can find the best luxury options in Kruger National Park, Johannesburg and Cape Town. 
Find out what are the best hotels in Johannesburg if you want luxury!
5.1 Best Booking Sites for South African Travels
I like using Agoda to book accommodation for my South African travels. They have special deals and an award scheme through which you earn credits to use for your future bookings. Agoda also offers a range of accommodation options, including hotels and self-catering apartments. Click here to search Agoda now.
Another site I always check before I complete my bookings is Booking.com. Booking.com often has exceptional prices, and if you book through them regularly, you get even better accommodation prices. To check booking.com's South Africa offerings out, click here. 
For longer trips in and around South Africa, we use Airbnb to book a place with a washing machine to do laundry while travelling. Click here to search for accommodation on Airbnb.
I use TripAdvisor to look at reviews of the hotels I find on other booking sites. Other travellers' reviews help you decide if the accommodation you have chosen is of good quality. 
6.Getting Around South Africa
If you plan to travel to different cities in South Africa, you need to plan your transport in advance. Otherwise, you may find booking flights or rental cars difficult, especially when travelling to South Africa during peak times. You have options for travelling between cities in South Africa, and we provide some guidance for your transport options, including domestic flights, busses and trains. 
6.1 Domestic Flights
The quickest way to travel between Cape Town and Johannesburg, the two most visited cities, is by taking a domestic flight. Flying from Cape Town to Johannesburg, or vice versa, takes less than 2 hours while taking the bus or driving may be between 12 and 16 hours. 
South Africa Domestic Flights to Explore This Stunning Country
6.2 Bus Travel in South Africa
You can travel by bus between cities and towns in South Africa. The quality of the buses is good and the prices reasonable. You can book buses online, at kiosks in shopping centres or supermarkets. 
6.3 Train Travel in South Africa
Apart from the Gautrain, which only operates in Gauteng between Johannesburg and Pretoria, there are few other train options for South Africa. There are some exciting luxury options for train travel, including the Blue Train and Rovos Rail. Other than that, the Shosholoza Meyl is available for limited budgets. Read more about the options for train travel between Cape Town and Johannesburg.
The Complete List of Options for Train Travel Between Johannesburg and Cape Town
6.4 Renting a Car
Renting a car is the best and most fun way to explore South Africa. Not only does it give you the most flexibility, but it is a cost-effective way to explore more of South Africa than would be possible with the other transport options.
Driving in South Africa is easy, and there are several spectacular routes from which to choose. The general condition of the main roads is excellent, but in the rural areas, you may find many potholes, which slows travelling by car down significantly. 
Read more about the ultimate road trip in South Africa – driving from Johannesburg to Cape Town.
7. Things to See and Do – Booking Day Tours, Activities and Other Forms of Entertainment
Do you want to visit the penguins in Cape Town? Would you like to go for a hot-air balloon ride or go up Table Mountain? If you have specific activities you want to do; you can book tours in advance. For activities in South Africa, we like to use and can recommend Viator, Klook and GetYourGuide for discounted tickets. These sites offer tours and activities at competitive prices in many South African destinations. 
Some tours we recommend are:
8. Get a Visa for Your South Africa Travels
Visitors from many countries don't need a visa to visit South Africa. If you are from the USA, Australia, New Zealand, Canada or Great Britain, you do not need a visa. Many other nationals also do not need visas if their stay in South Africa will be less than 90 days. It is always best to check the visa requirements for yourself. Regardless of whether you need a visa, the standard requirement of a passport with at least 6 months validity applies. 
9. Buy Travel Insurance
Some credit card companies give free travel insurance when you book your international flights using their credit card. First, make sure what coverage they provide before you consider additional travel insurance for your South African travel plans. 
It is best to have travel insurance when you travel internationally. Travel insurance can give you peace of mind that someone can help you when something goes wrong in South Africa. Having travel insurance in place protects you from unexpected incidents during your trip. You can use travel insurance for medical emergencies and trip interruptions, delays, lost baggage, and evacuations. 
Click here for travel insurance through World Nomads or Allianz Travel.
10. Staying Healthy when Travelling to South Africa – Vaccinations and Other Precautions
If you are creating a South African travel plan, you may wonder if you need vaccinations when travelling to South Africa or whether you can drink the water in South Africa.
Although not required, the World Health Organisation recommends some vaccines for travel to South Africa, including hepatitis A, hepatitis B, Tdap (tetanus, diphtheria and pertussis), typhoid, yellow fever, mumps and rubella (MMR), rabies, meningitis, polio, measles, chickenpox, shingles and pneumonia. 
South Africa's tap water is drinkable and of high quality. Although South Africa is one of the most dangerous countries globally, you can travel safely through this beautiful country if you can be cautious and do not display valuables openly or avoid isolated places at night. 
11. Staying Connected in South Africa – Internet, Wi Fi, Cellphones and Sim Cards
You probably know that there is no standard electrical plug and voltage globally. Every time you travel to a different country, you need to make sure you can charge your devices, including your cellphone, camera and laptop. Make sure you take an electrical converter and adapter to plug your devices into the electrical sockets in South Africa. 
While travelling South Africa, you will use four plug types: types C, D, M, and N. South Africa operates on a 230V supply voltage and 50Hz. This voltage is twice the standard voltage in North American countries.
12. Plan your money needs for South Africa
The South African currency is the South African Rand. South Africa's banking system is world-class. You can find ATMs to withdraw money in most places in South Africa. Most retailers throughout the country accept credit cards, but smaller shops in rural towns may prefer cash transactions, so it is best to carry small amounts of cash with you. 
If you have money questions about your trip to South Africa, read this article to get all your questions answered!
13. Pack for your South Africa travels
If you were wondering what to pack for your South African travels, here is a guide to help you know what essential items to bring with you. Alternatively, find out what to wear for a South African Safari!
If you followed these steps, you are ready for your trip to South Africa! Enjoy the journey!