This post contains affiliate links. If you click on any of these links to make a purchase, I may earn a small commission at no extra cost to you.
Many visitors to South Africa struggle to decide whether to visit Cape Town or Johannesburg. Let's look at what each city offers before getting an answer on whether to visit Cape Town or Johannesburg.
Why should you visit Johannesburg?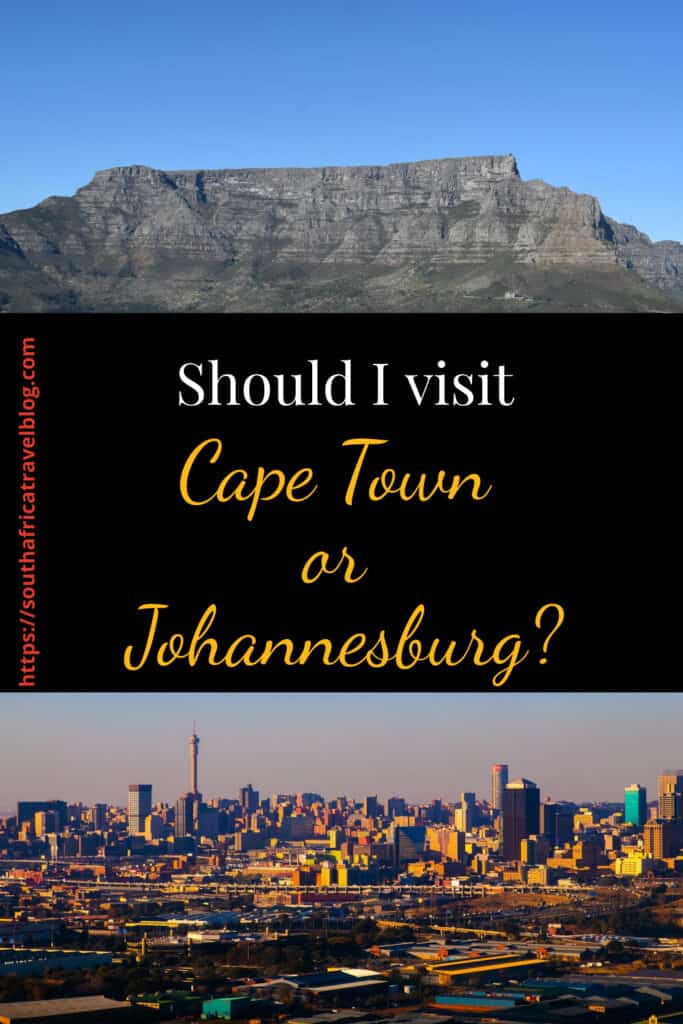 Johannesburg is the largest city in South Africa. It is also the commercial powerhouse of the entire African continent. Johannesburg is one of the greenest cities in the world, as it has more trees than most cities.
In summer, Johannesburg is full of purple and white Jacaranda trees, which is beautiful! Johannesburg offers visitors a range of activities to choose from. If you are looking for museums, art galleries and beautiful parks, you have come to the best city!
Artistic offerings
Johannesburg is known for several urban renewal projects in areas such as Maboneng and Newtown. The Newton Culture Precinct is popular with locals and tourists alike, as you can find several art galleries in the area. You will also find the Market Theatre and MuseumAfrica in the Newtown Precinct. If you love art galleries, the suburb of Rosebank features the Keyes Art Mile with multiple art galleries, including the Everard Read, TMRW and Circa galleries.
Beautiful and relaxing parks
Johannesburg's Zoo lake is a peaceful park with a serene lake and many trees. It is one of the locals' favourite parks to take a relaxing walk or exercise outdoors. Delta Park and Emmarentia Gardens are other beautiful parks in Johannesburg. A must-visit is the Walter Sisulu Botanical Gardens.
Historical landmarks
Near Johannesburg, you can find the Cradle of Humankind, a must-visit for lovers of geographical and historical discoveries. Throughout the years, the Cradle of Humankind has produced many hominin fossils. You can also find a restaurant and museum in the area. Another recommended attraction is the Sterkfontein Caves consisting of a tunnel system with artefacts and fossils.
A little further from Johannesburg is another historical landmark, the Tswaing crater. A meteorite fell and caused the crater approximately 220 000 years old. The site also features a museum.
History buffs should visit Soweto, The Apartheid Museum and Constitutional Hill.
Animals, game and nature reserves
There are several nature reserves, safari trails, zoos, reptile parks and walking trails in or near Johannesburg. The Dinokeng Game Reserve, near Pretoria, offers a self-drive trail where you can see many animals, such as lions, elephants, rhinos, buffaloes and leopards.
Johannesburg also makes it easy to visit the Kruger National Park, South Africa's best-known safari destination. The Kruger National Park is a 4-hour drive from Johannesburg. Alternatively, visiting the Big 5 at the Pilanesberg National Park near Sun City is another good option for seeing the animals and having fun with your family.
Johannesburg has many nature reserves, including Melville Koppies, Klipriviersberg Nature Reserve and the Wilds Nature Reserve. Johannesburg and Pretoria both have zoos.
Hiking trails & sports
Johannesburg also has several walking trails. Suikerbosrand Nature Reserve has many day trails and two or three-day hikes. Hennops Trail and Uitkyk Trail near Johannesburg are also popular with locals. Many of these trails allow you views of animals, such as kudus, gnu or zebras.
Johannesburg's people love sports. You will find golfers, runners and cyclists everywhere.
Shopping
There are several markets in Johannesburg to pick up African wares, including African textiles. You can find one of the largest malls in South Africa, the Mall of Africa, in Midrand, near Johannesburg. Sandton City Mall is another large mall offering luxurious products.
Nightlife
Johannesburg has plenty of options for an enjoyable evening out. The city offers something for everyone, from dance clubs and cocktail lounges to shebeens and bars. Melville, where several bars line 7th Street, is a favourite area to visit at night.
Weather
Johannesburg's weather is moderate throughout the year. Winters are not cold, while the summers are hot, with thundershowers in the late afternoon.
Transport
Although Johannesburg has a public bus system, it is unsafe for tourists. You can use Uber and other taxi services. Unless you are travelling with a local, also avoid the minibus taxis.
Johannesburg also has the Gautrain, which connects the city centre, Rosebank, Sandton, Pretoria and Johannesburg's OR Tambo International airport. It is fast and efficient.
Why should you visit Cape Town?
Cape Town is South Africa's mother city, where South Africa's modern history started, and it offers many outdoor attractions for visitors.
Sightseeing in Cape Town
Cape Town is one of the most beautiful cities in South Africa. You can find Cape Town on the southwest coast of South Africa. In Cape Town, you can have cultural experiences and see stunning landscapes.
Majestic mountains and beautiful beaches
Johannesburg has no mountains, while Cape Town has many majestic mountain ranges AND beaches.
One item on most people's bucket lists is a visit to Table Mountain, probably the most famous of South Africa's mountains. If hiking is not for you, you can take the cable car to the top of Table Mountain. Just check the weather before you go, as the cable car does not operate in windy or misty conditions.
Cape Town offers many blue flag beaches, including Camps Bay, Clifton and Muizenberg.
Shopping in Cape Town
The Victoria & Alfred Waterfront is the famous harbour shopping area in Cape Town. The Canal Walk shopping centre is the biggest mall in Cape Town.
Here are some of the best hotels near the Victoria & Alfred Waterfront.
Beautiful parks
If you visit Cape Town, spending time in the Kirstenbosch botanical gardens is a beautiful way to learn about native South African plants while relaxing in the sun.
Hiking trails & sports
Many locals and visitors to Cape Town hike up Table Mountain or Lion's Head. Even the shortest trail up these two mountains can be strenuous; if you are not fit, skip the hiking. At the Cape Point National Park, you can walk a trail that ends at Cape Point, where you will see stunning ocean views. Depending on the time of the year, you may be lucky and spot a whale! Many people mistake this for where the Atlantic and Indian oceans meet, but it is not – the actual meeting point of the two oceans can be found in Cape Agulhas.
Cape Town is the perfect place for water sports. You can try surfing in Muizenberg, abseiling down Table Mountain or stand-up paddleboarding on the ocean.
Historical landmarks
Cape Town is South Africa's oldest city. It has several historical sites to visit. The most famous is Robben Island, where Nelson Mandela was imposed for about 18 years. The Cape Kramats, or Mazaars, are the graves of the holy men from Islam who died in the Cape.
Exploring the surrounding areas of Cape Town
Visiting smaller towns near Cape Town is a must for visitors to Cape Town, especially for those who love wine. Franschhoek is the wine capital of South Africa, but the Stellenbosch area has multiple vineyards.
You can easily access the Garden Route from Cape Town. The Garden Route is a popular road trip for locals and foreigners alike. The Garden Route is fantastic, with unique accommodation options and lots to see and do!
Cultural and artistic offerings
Cape Town offers a mix of architectural styles and cultures from Cape Dutch, Edwardian, Art Deco, Regency, Victorian, Georgian and contemporary architecture.
Woodstock in Cape Town has several museums and artistic hangouts to visit. The Old Biscuit Mill and the Neighbourgoods Market are worth a visit. Cape Town's best museums are the District Six Museum, the Jewish Museum and the Cape Town castle.
To experience the foods of Cape Town, consider booking one of these food tours.
Animals, game and nature reserves
There are few game reserves near Cape Town, but you can go for a safari at the Aquila Game Reserve. You can also visit the Inverdoorn Game Reserve, which is 2,5 hours from Cape Town by car.
Cape Town has the Two Oceans Aquarium with sharks, penguins and jellyfish. You can also see penguins in a more natural environment at Boulder's Beach. During whale season, you can spot whales around the coastal areas.
Nightlife
Cape Town is busy with visitors from all over the world throughout the year. Some areas, including Woodstock, Bree Street, Long Street, Camps Bay and the city centre, come alive at night.
Weather
Cape Town's weather is volatile. In one day, you can experience all four seasons. Cape Town is also known for the Cape Doctor, a mighty south-easterly wind that occurs in Spring and Summer – it has caused damage by toppling monuments and overturning trucks.
Transport
Cape Town has an efficient and reliable bus system but only covers the most central and touristy areas. Cape Town also has Uber and other Taxi services. Locals use minibus taxis, but this is not always safe for tourists.
The answer to: Should I visit Cape Town or Johannesburg?
As you can see, both cities have a lot to offer. If you have enough time, visiting Johannesburg and Cape Town is best. You will not need as many days in Johannesburg as in Cape Town.
An excellent way to visit both cities is to do a road trip from Johannesburg to Cape Town with a halfway stop. The scenery along this road is amazing, and you get to see many of South Africa's provinces.
If your time and money are limited, your decision should be based on the experiences you want to have while visiting South Africa. Cape Town is the place for a beach holiday with beautiful natural scenery. For a more African experience, Johannesburg is a safe bet, as people often perceive Cape Town as more European.