This post contains affiliate links. If you click on any of these links to make a purchase, I may earn a small commission at no extra cost to you.
Where to stay when you arrive in South Africa is essential to planning your trip to South Africa. Fortunately, there are many accommodation options to cater for everyone – regardless of their budget and personal preferences. When you travel to South Africa, the enormous range of accommodation options will amaze you! 
The Grading System for Accommodation in South Africa
To determine the quality of a hotel or bed-and-breakfast, look at the number of stars given by the Tourism Grading Council of South Africa (TGCSA). The TGCSA is the quality assurance body for accommodation establishments in South Africa. It uses a 5-star grading system to rate the quality and type of the establishment's services and accommodation.
Here is the TGCSA's grading system: 
1 Star: The establishment's furnishings, service and guest care are in the fair to good (modest/acceptable) range. The accommodation is clean, comfortable and functional.
2 Stars: The establishment has good quality furnishings, guest care and service.
3 Stars: The establishment has a very good quality of service, furnishings and guest care.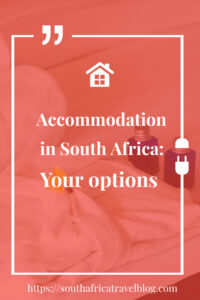 4 Stars: The establishment offers superior or excellent comfort and quality. 
5 Stars: The establishment offers luxury accommodation at an exceptional level of quality with the highest standards of furnishings, meticulous guest care and flawless service.
It is important to note that a one-star grade does not mean an establishment offers low-quality furnishings and services. It means that it meets the basic level of quality, but needs to upgrade to meet the higher grading's quality requirements. Although South Africa's grading system is based on worldwide standards, the grading systems between countries differ. The South African grading system is similar to those of Australia, the UK and New Zealand.
Types of Accommodation in South Africa
The types of accommodation available to you range from hotels, guest houses, bed and breakfasts to lodges and self-catering units. 
Here are tips to help you find deals on hotels in Johannesburg.
Hotels
South African hotels compare favourably with the best hotels globally. Many leading hotel chains, such as Hilton, Sheraton, and Holiday Inn, also have hotels in South Africa. These hotels have a high standard for all their facilities to help you enjoy your stay. 
Hotels typically offer these standard features: 
A reception area
Rooms opening into passages
On-site restaurants and a variety of other facilities
Guest services, including room service
You will find a South African hotel to suit your needs and preferences. Many modern hotels are in the city centres or areas with vibrant nightlife, and you can find others in tranquil and beautiful settings where guests can relax. 
South Africa also has a range of boutique hotels, often situated on wine or gold estates. These are small hotels with less than 15 rooms. 
Read about the best hotels in Johannesburg for a luxurious stay!
Read about the Protea Hotel Kimberley!
Click here to see the range of hotels South Africa offers.
Guest Houses
Guest houses in South Africa are typically created when owners convert their residences into guest houses. They provide guests with overnight accommodation. Some guest houses are managed by the owner. The public area of guest houses is only available for the guests' use. You can find a range of services at guest houses, including breakfast.
Guest houses are smaller versions of hotels and usually have between 5 and 15 rooms. They may have the professional approach of a hotel, but with a more homely atmosphere. 
Click here to see the range of guest houses South Africa offers.
Bed and Breakfast Establishments
In South Africa, bed and breakfast accommodation is typically provided in private residences with one or two guest rooms. The owner or manager may stay inside the home or elsewhere on the property, with or without their family. Establishments with over two rooms are guest houses. Guests stay overnight in a private bedroom with a bathroom in bed and breakfast establishments. The public spaces are shared with other guests and the host. Guests usually get a continental or English breakfast in the daily tariff. 
South Africa offers a large variety of comfortable bed-and-breakfast establishments. Some are luxurious, while others are informal. You can book bed-and-breakfasts at a reasonable price. Each host may personalise their service to guests, and you can easily find an establishment that suits your budget and personal preferences. 
Bed and breakfast establishments allow guests to connect with locals to learn more about South African people and their cultures. Guests may enjoy experiencing South African hospitality with a home-cooked dinner or braai (barbecue). 
Click here to see the range of bed-and-breakfast establishments in South Africa.
Lodges
A lodge provides accommodation where guests can have contact with African culture and nature. The construction of lodges uses natural building materials, such as wood and thatch, which blend with the surrounding environment. 
Most of the lodges in South Africa are game lodges and can be found inside wildlife reserves, private game farms and national game reserves. Lodges can range in style and price to cater to guests' tastes, and their rates include all activities and meals. 
Lodges can make your stay memorable with an unforgettable African experience. Game rangers may host the guests and give them a detailed explanation of the African wildlife. Visitors at lodges participate in game drives and hikes and may experience bush dinners under the African sky. 
Click here to see the range of guest houses South Africa offers.
Hostels
Hostels can be found in most countries around the world. They offer budget accommodation and facilities to travellers. The bedrooms are dormitory-style, and the bathrooms are shared. Some hostels may have single or double bedrooms with private bathrooms. 
Public areas are shared and include a lounge and kitchen. When staying at a hostel, guests can prepare their own food in the shared kitchens. Some hostels may offer light meals. Hostels are perfect for travellers who want a social experience. South African hostels are clean, well-priced, fun places to spend time.
You can find hostels in most cities in South Africa, and if you want to save money, a hostel is the best place to stay. 
Click here to see the range of hostels South Africa offers.
Self-Catering Accommodation in South Africa
One of the most popular types of accommodation in South Africa is self-catering accommodation. You can find apartments, houses, chalets, bungalows or cottages with self-catering accommodation. Self-catering housing means guests care for their own needs, such as meals. Since guests don't require meals and other services, self-catering accommodation is usually more affordable and gives guests greater freedom. 
Some South Africans offer self-catering accommodation on their properties in the form of self-catering cottages to boost their income sources. This accommodation can give guests exposure to South Africans and their way of life. The price and facilities offered by self-catering units differ and can range from luxurious to budget facilities. 
Click here to see the range of self-catering accommodation options South Africa offers.
Camping and Caravan Sites
South Africans love camping and caravanning; you can find these sites across the country. Camping and caravan sites offer sites where guests can pitch a tent or place their caravan. These sites sometimes provide electricity, and the bathrooms are public facilities. 
South Africa has over 700 camping and caravanning sites. They are typically located in popular holiday spots near the coast, parks or other popular tourist routes. The quality and standards of these sites are comparable with the best in the world. 
Camping and caravanning is the most affordable accommodation in South Africa. If you choose a self-drive holiday while camping, your trip to South Africa will be one of your cheapest. You don't have to own a caravan or tent to use these sites, as you can rent a tent, camper or tent from the major cities in South Africa. The best time for camping in South Africa is from October to March each year. 
Click here to see the range of camping and caravan sites South Africa offers.
Holiday Resorts
South Africans love holiday resorts. The South African resorts typically include a hotel with various entertainment offerings. The accommodation in resorts can be hotels or self-catering units, but you can also find resorts with camping and caravanning sites. There are restaurants and shopping facilities at the holiday resort. 
Holiday resorts often offer golf courses, water sports and adventure activities to keep guests busy. If you want to visit South Africa with your family, consider holiday resorts, as they offer something for family members of all ages. 
Click here to see the range of holiday resorts South Africa offers
Accommodation articles