This post contains affiliate links. If you click on any of these links to make a purchase, I may earn a small commission at no extra cost to you.
Johannesburg has two international airports: Johannesburg International Airport and Lanseria International Airport. The main international airport in Johannesburg is the Johannesburg International Airport. The Johannesburg International Airport is the busiest in Africa. Despite this, it is pretty small compared to larger airports globally and relatively easy to navigate. First-time visitors have several questions about Johannesburg's airport – here are the FAQs, with answers, about Johannesburg International Airport.
What Is the Johannesburg Airport Called?
The name of the Johannesburg International Airport is OR Tambo International Airport, or sometimes even Johannesburg OR Tambo International Airport.
Which Johannesburg Airport Should You Use?
As already pointed out, foreign carriers use OR Tambo. When visiting South Africa, visitors must be careful when booking domestic flights, as OR Tambo and Lanseria International Airport offer domestic flights. The world airport codes for Lanseria are HLA (IATA) or FALA (ICAO), whereas OR Tambo's codes are JNB (IATA) and FAOR (ICAO). Many travellers know OR Tambo as ORTIA, the abbreviation for OR Tambo International Airport.
Here's an article to help you choose the best airport in South Africa.
Where Is OR Tambo Airport in Johannesburg?
The OR Tambo Airport is in the Kempton Park area of Johannesburg. Its location is 23 km northwest of the Johannesburg city centre.
It is a 30-minute drive (27 km) from OR Tambo Airport to Sandton and a 28-minute drive (25 km) to Rosebank. If you decide to take the Gautrain from the airport, it will take 15 minutes to Sandton and up to 45 minutes to Rosebank (you need to change platforms in Sandton Station and wait for the next train to Rosebank), depending on whether it is a weekday or weekend.
Read here how you can get from OR Tambo to the Johannesburg city centre and other popular suburbs, such as Sandton and Rosebank. Here is an article about the best luxury hotels in Johannesburg. If you are a budget traveller, here are some tips to help you find the best hotel deals in Johannesburg.
Terminals at The Johannesburg International Airport
There are only two terminals at OR Tambo: Terminals A and B. Terminal A is for international arrivals and departures, while Terminal B is for domestic arrivals and departures. A central atrium links Terminals A and B.
If you landed from an international destination in Johannesburg, you can move through customs and collect your luggage from Terminal A. You can re-check your bags for your local flight before you reach the central atrium. Afterwards, go to Terminal B's security area and head to your gate.
Does Johannesburg Airport Have Luggage Storage?
Yes, luggage storage is available at OR Tambo Airport. A-Teck provides luggage storage. You can contact them telephonically: + 27  (11)  390 2689, or email: info@a-teck.co.za.
When you exit the third set of sliding doors after passing immigration, baggage claim and customs, you need to work straight ahead for about 30 seconds to the terminal exit doors. Use the elevator before the terminal exists to go down one floor. Once you get out of the elevator, turn left (if you turn right, you will end up in the parking garage). You can find A-Teck at the end of a short passage. You don't need to make a book in advance. Once you hand in your luggage, they will give you a claims check to return when you collect your luggage.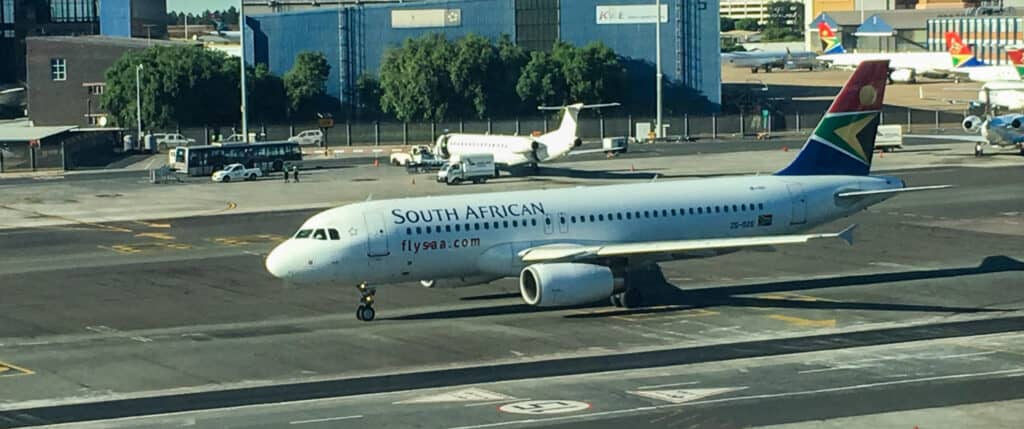 Johannesburg Airport does not offer lockers. Even A-Teck does not offer lockers, just shelves where they store anything of any size. You need to pay in cash, in advance, based on how long you want to leave your luggage there. If you collect your luggage even an hour later than expected, they will expect a pro-rata payment for each item you store.
Be warned, some travellers experienced break-ins while their luggage was in storage.
If you need luggage storage for several days, consider using Tour With Ease. They collect your luggage upon arrival at OR Tambo and will return it before your next flight. Customers have not complained about losing any luggage when using Tour with Ease.
Does Johannesburg or Tambo Airport Have Wi-Fi?
Yes, OR Tambo has Wi-Fi. You can get free Wi-Fi for 4 hours (240 minutes) or 1 gigabyte, whichever comes first. To get access to the Wi-Fi, you need to register by following these steps:
Connect to # Airports Free
Choose the complimentary access option
Register using your email address
Browse the internet.
Lounges will have their own internet access details.
Does Johannesburg OR Tambo Airport Have Smoking Areas?
Yes, there is a smoking lounge on the mezzanine level in Terminal A.
There are private smoking lounges on the upper floor, such as Lounge 27. You can get there by following the signs to D Lounge. Go up the escalators to see it. Entry requires you to make a purchase.
Some restaurants also have designated smoking areas. You must buy food or drink to smoke in restaurants' smoking areas.
Are There Facilities for Foreign Currency Exchange at Johannesburg Airport?
Johannesburg International Airport does not have a Western Union, but there are several foreign exchange operators inside the OR Tambo Airport:
Travelex in Terminal A or in the duty-free area
Inter Africa Bureau de Change in the central terminal building
Any of the banks in the central terminal building (Absa, Bidvest, Nedbank, Standard Bank, FNB)
American Express in the central terminal building
Tax refund in the duty-free area
Master Currency near Terminal A
Does Johannesburg OR Tambo Have Airport Lounges?
Terminal A has the following lounges:
Bidvest Premier Lounge
Mashonzha Lounge
Shongololo Lounge
Slow Lounge
British Airways Galleries Lounge
The Emirates Lounge
Aspire Lounge
SAA Cycad First Class Lounge
SAA Baobab Premier Class Lounge
Virgin Atlanctic Clubhouse
SAA Arrivals Lounge
Terminal B has the following lounges:
Bidvest Premier Lounge
Bidvest Sky Lounge
Slow Lounge
SAA VIA Lounge
SAA Voyager Platinum Lounge
What Restaurants Are There at Johannesburg International Airport?
OR Tambo Airport has a range of restaurants in both international and domestic terminals. Most restaurants are located in the duty-free mall, international land side, domestic airside, and food court. The restaurants include snacks, candy, chicken fast foods, coffee shops, bakeries, seafood, oriental food, and a steakhouse.
Most shops and restaurants will be closed if you arrive at OR Tambo early in the morning. They usually start opening around 7:00.
What Shops Are There at Johannesburg International Airport?
There are multiple shops at the OR Tambo Airport. These include leather goods, jewellery, sports and outdoor gear, eyewear, curios, art, antiques, cellphone, and camera equipment.
Are There Car Rentals in Johannesburg OR Tambo?
Johannesburg OR Tambo offers a variety of car rental agencies, including Sixt, Dollar Rental, Avis, Bidvest, and Woodford. Most car rental agencies are located outside the main airport building between Terminals A and B. Our preferred transfer services company is Get Transfer and for rentals we use Rentalcars.
Does Johannesburg Airport Have Global Entry?
No, none of the airports in Johannesburg has global entry.
How Is the Safety in Johannesburg Airport?
This is one of the FAQs about Johannesburg International Airport. As with most places in South Africa, do not leave luggage unattended or walk around showing your valuables.
Are There Transit Hotels at Johannesburg International Airport?
There are no transit hotels inside the Johannesburg International Airport, but two are nearby. To find out about the hotels in or near the Johannesburg International Airport, read this article – 5 best hotels in or near Johannesburg International Airport.
This map shows other accommodation options near OR Tambo International Airport: