This post contains affiliate links. If you click on any of these links to make a purchase, I may earn a small commission at no extra cost to you.
Foreigners often ask: 'Where is South Africa?' If you are interested in getting to know more about beautiful South Africa because you are considering a visit, you first need to find out where it is before you find out more about the diverse range of activities and landscapes you can visit in South Africa.
Find out how to plan a trip to South Africa and what the best places to visit in South Africa are. You can also find more information on how to get cheap flights to South Africa.
Where is South Africa on the world map?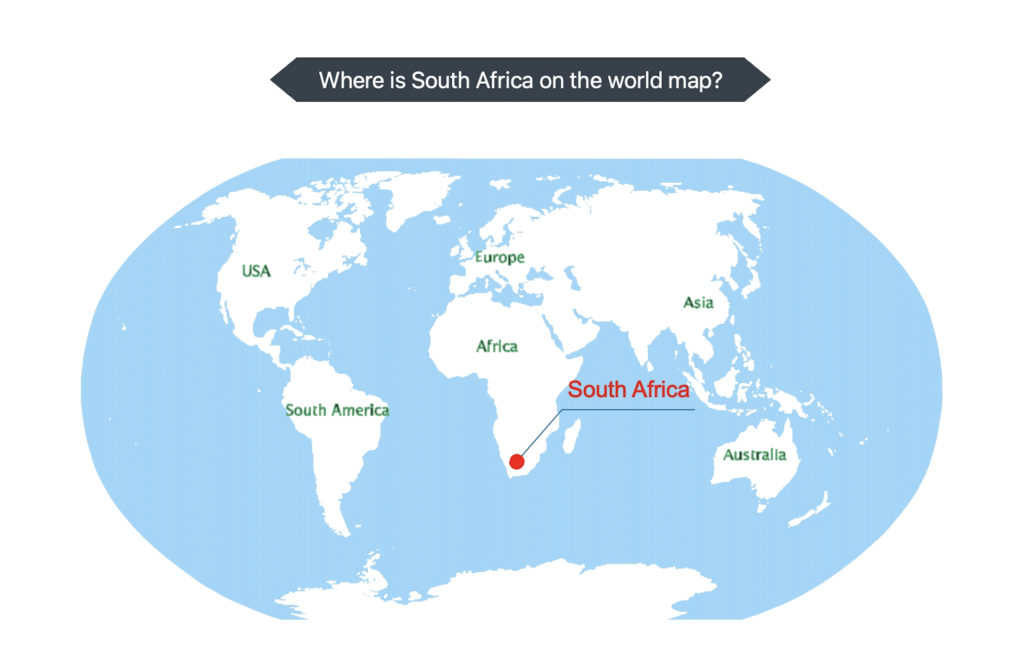 South Africa is part of the African continent. It is the most southern country on the African continent.
If one of your questions is: "Where is South Africa in Africa?", the answer is easy! South Africa is in Southern Africa, located at the southern tip of the African continent. The Indian and Atlantic oceans meet at the most southern point of the country. South Africa's neighbouring countries include Namibia, Botswana, Zimbabwe, Eswatini and Mozambique. There is a country within South Africa – This small country is Lesotho. 
Map of South Africa
South Africa is the ninth-largest country in Africa and the 24th-largest country in the world. When you visit this country, you will need multiple days to see the best attractions in the country, instead of just visiting one destination. There are nine provinces, of which Gauteng, where Johannesburg is located, is the smallest but richest province. 
Where is South Africa located geographically? 
South Africa's coordinates are 30.5595° S, 22.9375° E. The total surface area is 470,900 mi² or 1,219,090 sq km.
What is South Africa's time zone?
South Africa, Eswatini and Lesotho use South Africa Standard Time (SAST). This time zone is the same as Central Africa Time, which is two hours ahead of GMT. South Africa does not observe daylight saving time. 
An independent and free country
Many people know about South Africa because of apartheid. During South Africa's apartheid years, the government separated white and black people. Apartheid ended in 1994 when it became a free country and started its post-apartheid era.
Who visits South Africa?
In 2018, South Africa had over 16.44 million foreign visitors. South Africa's popularity as a tourist destination is increasing, and the forecasts predicted at least 20 million visitors by 2023. South Africa was the second most visited country in Africa with Morocco being the only African country with more visitors. Most of the visitors came from the United Kingdom, with close to half a million visitors. 
Despite being at the bottom end of the African continent, South Africa is easy to visit with several international airports, and finding a connecting flight from most countries in the world is easy. 
You can get to Johannesburg International Airport just over 8 hours from Dubai and just under 11 hours from London. Travelling from Washington DC to Johannesburg will take about 18 hours.
Click here for more information about flights to South Africa or how to book cheap flights to South Africa.
Where is South Africa's top holiday destination?
Now that you know where the country is and how to get there, you can start researching to plan your trip. Each province is unique, and you can find everything from beautiful beach resorts to exciting safaris.
When you plan your trip to South Africa, you need to choose an excellent base or two for exploring this large country, as the distances between the major cities vary but can be significant. Whatever your idea of the perfect getaway is, you will find the ideal holiday spot in South Africa. 
The most beautiful city is Cape Town, but Johannesburg is the most visited city. Another popular destination is Kruger National Park for its wildlife. These top destinations are far from each other in different provinces, and you will need several days to explore them all!
Renting a car will give you the most flexibility for exploring this beautiful country. You can find good deals on car rentals here!
Mountains of South Africa
South Africa has beautiful mountain ranges in most of its provinces. The Drakensberg is popular with locals and foreigners and is also one of the UNESCO heritage sites in South Africa. You can also visit Table Mountain in Cape Town if you are more of a city-lover! If you love hiking and getting off the beaten path, spending time in the South African mountains will be perfect for you. 
South Africa's coastline
South Africa's coastline is over 3 000 km long and there are 46 blue flag beaches, many in Cape Town. It starts at the desert border with Namibia and goes outwards up to the border with Mozambique. The coastal areas are very popular with locals for the South African holiday seasons. South African beaches are beautiful, and South Africans love spending time in the water.
The ocean near Cape Town is icy, and you may want to think twice before you attempt a dip in the colder seasons. However, it may be just what you need to cool down in the warm summers. You can find warmer water near Durban and the surrounding areas. You can read more about the weather in Cape Town and what to wear by clicking here.
Many foreigners drive the Garden Route, which is also a popular route for locals. The Garden Route stretches from Mossel Bay to Plettenberg Bay, and there are many exciting activities and sights along the way.
South Africa's national parks 
South Africa has several national parks, of which the Kruger National Park is the most visited by foreign visitors. At most of these national parks, you can view various wildlife – one reason many foreigners visit the country for.
What is South Africa's population?
The population is approximately 60,178,305 million people. The graph below shows the breakdown of the population by race.
Official languages
Only two countries in the world have more official languages than South Africa, and these countries are Zimbabwe and Bolivia! South Africa has 11 official languages of which English is commonly spoken, making travelling easy as you can converse in English throughout the country.
What is South Africa's currency?
The country uses the Rand, abbreviated as ZAR. The Rand is not a strong currency, which makes visiting it affordable for visitors from the United Kingdom and the USA with their strong currencies.
Click here to learn more about the South African Economy and money.
| | |
| --- | --- |
| 1 USD | R14.31 |
| 1 GBP | R19.83 |
| 1 EUR | R17.00 |
Comparing the Rand (ZAR) to common currencies (4 September 2021)
Sources:
Number of tourists in South Africa
List of countries by official languages