This post contains affiliate links. If you click on any of these links to make a purchase, I may earn a small commission at no extra cost to you.
South Africans love to eat, and there is a fantastic variety of foods to try in South Africa. A food tour is a great way to get insider info from locals on the best foods and places to eat in a destination. It is also one of the best ways to become familiar with the foods of a country. When you visit South Africa's mother city, beautiful Cape Town, trying its foods is a must-do activity. In this article, we consider the best Cape Town food tours to add to your South Africa itinerary and the highlights of each tour. 
What Food Is Cape Town Most Famous For?
Before considering a food tour, you should know what food Cape Town is known for. Because of international influences, you can find all types of cuisines in Cape Town. However, Cape Town is well-known for three items: wines, seafood and Cape Malay food.
A unique food offering to the Western Cape Province of South Africa is Cape Malay food. Cape Malay food combines elements of Malaysian, Indonesian and East African flavours. The food originated when the Dutch settlers brought enslaved people from these countries to South Africa in the 17th and 18th centuries.
Cape Malay food is still popular today and worth a try! Favourite Cape Malay dishes include stews (bredies), pickles (sambals and atchars), curries, sweet treats (koesisters and boeber) and porrings (puddings). 
If you are interested in South Africa's history, read more about the historic buildings in Cape Town or the oldest towns in South Africa.
With Cape Town being an ocean-side city, the seafood here is superb. You can find fish and chips shops or restaurants selling the best Cape seafood, such as snoek, crayfish or hake, everywhere on the streets of Cape Town!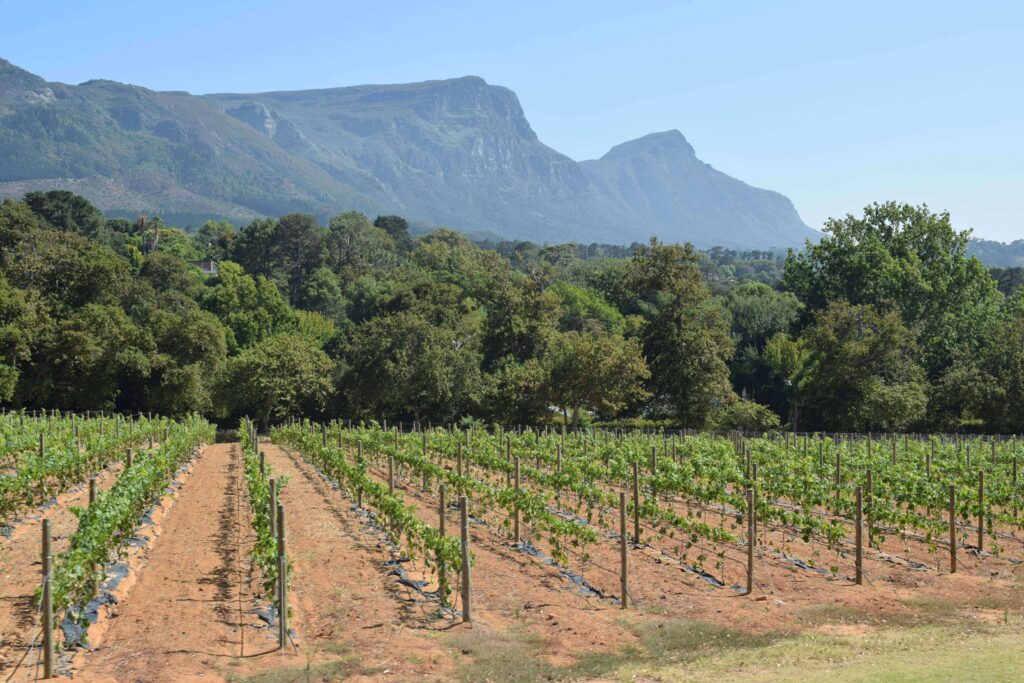 South African wines started in 1659. Jan van Riebeeck, the founder and governor of Cape Town, produced the first bottle of wine in 1659. The next governor was Simon van der Stel. He improved the quality of viticulture in the Cape. He established the Constantia Wine Estate. Since then, vineyards for wine production have been established in Stellenbosch, Paarl and Worcester. South African wines are famous globally.
Best Cape Town Food Tours To Add To Your Itinerary
Now that you know the best foods in Cape Town, let's explore the best Cape Town food tours to see your options for choosing the best foodie experience!
The 10 Tastings of Cape Town With Locals: Private Food Walking Tour
The 10 Tastings of Cape Town With Locals: Private Food Walking Tour highlights:
4.5/5 rating with over 75 reviews!
3 hours long.
Taste 10 different dishes or drinks
Vegetarian options are available
"Bhirdev was very personable and easy to talk to. We learned so much about South Africa on our first day here. He took us to a few different local food stops that we really enjoyed. It was a great introduction to the city of Cape Town and the country of South Africa." 

Read more reviews here. 
This private tour is an excellent introduction to Cape Town's eclectic food scene. During this tour, you will taste a variety of Cape Town's best food, including sweet and savoury items to tantalise your taste buds. 
Cape Town: Essential Food and Drink Tour
Cape Town: Essential Food and Drink Tour highlights:
5/5 rating 
4 hours long.
The waking food tour covers the De Waterkant, Greenpoint, and the Waterfront areas
Interact with local food artisans about their contribution to Cape Town's food scene
Taste several of Cape Town's hidden culinary gems, ranging from Cape Malay to traditional South African dishes
Learn about Cape Town's history and architecture
Visit the Bo-Kaap area
This tour gives you a taste of different local cuisine at various local restaurants. The tour includes a walk through the historical Bo-Kaap to visit the Bo-Kaap Deli for coffee or tea with Malay Koesisters.
Another stop is Marcos Africa Café, where you can try a platter of Ostrich medallions, samp and beans with chakalaka salad and Springbok stew. You even get to try Umqombothi, an African beer.
Furthermore, you try bobotie and bubbles at Cafe Charles while learning about Cape Malay spices and history. You also visit the Fireman Arms to try craft beer, gin with a bunny chow and a traditional South African pudding, a malva pudding. It is important to note that people with mobility issues cannot do this tour!
Bo-Kapp Walking Tour and Malay Cooking Class
Bo-Kapp walking Tour and Malay cooking class highlights:
4.7/5 rating with over 24 reviews!
4 hours long.
Participate in an interactive cooking class at a local's home
Enjoy a traditional Cape Malay meal of curry, salsa, roti and doughnuts
Learn about the Cape Malay culture and traditions in the colourful Bo-Kapp area
"This was a great activity to do in Cape Town. It starts with a walking tour of the brightly coloured houses of Bo Kaap. Our guide has lived in the area for decades and was able to give a real-life experience and history of living in the area. We then went on to cook some amazing food. The atmosphere was relaxed, and thankfully, no previous experience of cooking Malay food was needed! The conversation was flowing as we continued to learn more about the people of Bo Kapp, whilst listening to the competitive sounds of dominoes being played on the streets outside. Our food was delicious as our guide also bought us dessert from the local shop. Highly recommended tour that is a must if you're visiting Cape Town." 

Read more reviews here.
If you want to experience Cape Malay cuisine, learn how to cook a traditional dish and learn about the Bo-Kapp area with a local guide, then this tour is perfect! If this sounds interesting, don't miss out on this tour!
From Cape Town: Hop-on Hop-off Franschhoek Wine Tram
From Cape Town: Hop-on Hop-off Franschhoek Wine Tram highlights
5/5 rating with over 3 reviews!
Full-day tour.
Pick-up from your hotel in Cape Town to Franschhoek and back included
Hop-on hop-off tram experience in Franschhoek with a choice of 8 different routes
Taste as much wine as you like since you are not driving
"Smooth transfer ,most helpful staff ,knew exactly how to arrange my day as there was a winery I wanted to visit again since my last visit 18 years ago that wasn't on the specific tram line designated for this tour . Tram ride was fun and iconic. All the wineries have great service,friendly staff and great wine, of course !" 

Read more reviews here.
This is one of the best experiences for wine lovers! You spend your day travelling on a hop-on, hop-off tram between the different wineries selling some of South Africa's finest wines. I highly recommend this as one of the best wine tours – the perfect way to spend the day in beautiful Franschhoek while focusing on wine tasting.
African Dinner and Drumming Experience
African Dinner and Drumming Experience highlights:
4.5/5 rating with over 62 reviews!
3,5 hours duration.
Taste 14 different dinner dishes, including South African specialities
Learn about African culture and cuisine
Take part in an African drumming session
"This was a wonderful and fun immersive and interactive experience! From the drumming lesson to servers breaking out in song and dance to a variety of dishes, it was a very entertaining and delightful dinner! Would highly recommend. It's like a party with high energy actors and a dance party to end the evening." 

Read more reviews here.
This dinner and drumming experience allows you to taste South Africa's vibrant food and learn more about South Africa's musical, cultural and culinary traditions. The price of this experience does not include alcoholic drinks. 
Stellenbosch and Franschhoek 20 Wine Tasting & Lunch & Tasting Fees Shared Tour
Stellenbosch and Franschhoek 20 Wine Tasting & Lunch & Tasting Fees Shared Tour highlights
4.5/5 rating with over 145 reviews!
Explore the Cape Winelands 
Taste wines and foods while enjoying the beautiful scenery of this region 
Enjoy wine tastings at five top wineries with local cheeses and red meat, like biltong (similar to jerky) 
Learn about the history of the town of Stellenbosch and Franschhoek
Free time for shopping and eating 
See Drakenstein, a prison where Nelson Mandela spent some time
"First time traveling solo and I must say that the Winelands tour was an amazing experience. I learnt so much about wines! My favorite place to stop was Hautè Cabrière because I love me some MCC but of course the views and the cleanliness of the establishment is. By the time I got to the third wineland I was absolutely exhausted. Lovely experience and well informed guide."

Read more reviews here.
This small group tour takes you to South Africa's Winelands for a day of wine, scenery, history and food tasting. This tour gives you the perfect opportunity to learn more about Stellenbosch and Franschhoek and to enjoy the beautiful mountains surrounding these towns. The price includes the local guide and round-trip to and from your hotel. 
Cape Town: Sunset Champagne Cruise and 3-Course Dinner
Cape Town: Sunset Champagne Cruise and 3-Course Dinner highlights
4.5/5 rating with over 260 reviews!
4-hour duration.
Watch the sunset while enjoying sparkling wine
Dine at the V&A Waterfront after your cruise
Get a unique perspective of the V&A Waterfront while cruising
Dine at the City Grill that overlooks the harbour
"The sunset champagne cruise was an amazing experience with the process being absolutely efficient from the obtaining of boarding pass and the cruise with very friendly staff .the price included 2 glasses of champagne but my wife and I got 3 glasses of champagne..with good music and excellent views of Capetown coastline and the amazing sunset on our return we had an excellent 3 course meal at City Grill.. excellent food and great service" 

Read more reviews here.
The sunset cruise lasts 90 minutes; whereafter you go ashore for dinner. From the Esperance and Serenity One sailboat, you can see Table Mountain as the sun sets with Robben Island in the distance. The cruise sails to Milnerton Lighthouse and return to Granger Bay. If the weather is terrible, the cruise goes to Cape Town Harbour, not Table Bay. 
From Cape Town: Wildlife Safari, Olive, Beer & Wine Tasting
From Cape Town: Wildlife Safari, Olive, Beer & Wine Tasting highlights
4.7/5 rating with over 10 reviews!
Experience Buffelsfontein Game and Nature Reserve on the West Coast
Enjoy an olive and wine tasting at Alexanderfontein
Try craft beers produced at the Darling Brewery
Enjoy handmade toffees from Darling Sweets.
This tour offers a scenic drive from Cape Town's V&A waterfront or your central city hotel, past Blouberg to Buffelsfontein. You will enjoy a three-hour guided Buffelsfontein Game and Nature Reserve tour. Then, you will have an olive and wine tasting at Alexanderfontein farm. From there, you will visit the small village of Darling to taste locally-brewed craft beer and eat toffees at Darling Sweets.
Are The Cape Town Food Tours Worth It?
Definitely! Depending on the duration of your stay in Cape Town, you may even want to do multiple tours!
Are food tours not for you? Here are some of the best Cape Town tours you can consider.