This post contains affiliate links. If you click on any of these links to make a purchase, I may earn a small commission at no extra cost to you.
Misty Hills Country Hotel, Conference and Spa is the perfect place to go when you need a break from city life without going far from Johannesburg. You can find all you need to know about visiting this excellent country hotel!
Directions to Misty Hills Country Hotel in Muldersdrift
The Misty Hills Hotel is in Muldersdrift, an area in the Gauteng province of South Africa. The Hotel is located at the foot of the Swartkop Mountains in the Kromdraai Valley in Muldersdrift.
Getting to the Misty Hills Hotel and Spa is easy – it is just around 40 minutes by car from Johannesburg, as depicted in the map below.
Here are detailed directions to Misty Hill Country Hotel in Muldersdrift:
If you are leaving Sandton by car, you will head north using West Street before turning left into Grayston Drive (M40).
At the crossing with Sandton Drive, turn right into Sandton Drive (M75).
You continue straight and turn right into William Nicol Drive (M81).
Continue for 1,3km until you turn left into Republic Road.
You stay on Republic Road for 4,3km until you turn right into Malibongwe Drive.
After 600 metres, you turn left into Hans Schoeman Street.
Continue for 2.5km in Hans Schoeman Street. Here the name of the street changes to Ysterhout Drive.
Stay in Ysterhout Drive for 2,2km until you turn right onto Beyers Naude Drive (M5).
You will stay on Beyers Naude Drive for 11,3 km until you reach Drift Boulevard (R114) when you turn left.
Continue straight for 900 metres.
You will find Misty Hills Country Hotel & Spa on your right-hand side.
Misty Hill Country Hotel's Entrance
You cannot miss Misty Hills Country Hotels' entrance! You need to sign in at the gate. If you stay at the Misty Hills Country Hotel, you must show your booking confirmation. The guard will give you directions to the hotel reception. Misty Hills Hotel is located on over 60 acres of botanical gardens and offers hotel rooms, restaurants, conference and wedding facilities.
The Reception at Misty Hills in Muldersdrift
The Misty Hills Hotel and buildings are made from stone with thatch roofs, making it feel authentically African.
The reception at Misty Hills is a beautiful lounge with a variety of sitting areas, all featuring African décor. There is a small lounge where free drinks, such as juices and cognac, are offered for free. Sometimes there are bowls of free candy available in the foyer.
Take some time to explore the art located on the floor above the reception area. The walls feature interesting African and Japanese art pieces.
Misty Hills Muldersdrift's Accommodation & Rates
Misty Hills offer various accommodation options, from deluxe rooms to presidential suites.
Deluxe Rooms
There are three types of deluxe rooms: deluxe rooms, deluxe superior rooms and super deluxe rooms. The deluxe rooms have been built in a "village style." These rooms are surrounded by water features and African art pieces in the gardens. Each room has satellite television, a telephone and coffee and tea-making facilities. Each room offers twin or double beds with an en-suite bathroom, shower, and bath.
Junior Suites
The junior suites are more upmarket than the deluxe rooms. In addition to the regular deluxe room offerings, the junior suites have a lounge, a bedroom with a king-size bed, and a bathroom with a jacuzzi bath and shower. These rooms also have air conditioning.
Executive Suites
There are two types of executive suites, namely, the classic executive suites and the executive suites. These offer more than the junior suites as they also have an outside shower in a private garden.
Royal Suites
The royal suites are a step up from the executive suites. The royal suites offer a private garden with an outside shower, a sunken bath, a thatched patio area and a private plunge pool.
Presidential Suites at The Misty Hills Country Hotel
Misty Hills' best suites are the presidential suites. These suites offer a private garden with a plunge pool and outside shower. Each suite also has a thatched patio area and a kitchenette.
Restaurants at The Misty Hills Country Hotel & Spa
There are four different restaurants at Misty Hills Hotel Johannesburg:
Ginbox Pub and The Connexion
The Ginbox Pub and Connexion offer light and quick meals. They also offer traditional pub foods, excellent coffees and delightful desserts. You can sit indoors or outdoors when visiting the restaurant.
If you order room service at Misty Hills Country Hotel, you will order from the Ginbox Pub and Connexion.
Summerhouse Restaurant
While staying at Misty Hills, you will have breakfast at the Summerhouse Restaurant. The breakfast is a buffet with an enormous range of options, including cereals, egg dishes, baked goods and various meaty dishes.
The Summerhouse Restaurant at the Misty Hills Country Hotel in Muldersdrift also offers an a la carte menu for other meals. The Summerhouse Restaurant is a beautiful venue with wooden floors and large windows overlooking Misty Hill's beautiful botanical gardens. It is a large venue and can seat up to 130 guests.
Misty Hills' Carnivore Restaurant
The Carnivore Restaurant at Misty Hills is world-famous. Having a meal at the Carnivore Restaurant is an experience that starts with soup and bread. Your meal will continue with fresh salads and sauces to complement your main meal.
The servers walk around with Masaai spears with different meats, including game and other domestic meats. The Misty Hills' Carnivore Restaurant's menu allows you to choose from chicken, beef, boerewors, ostrich, pork, kudu and crocodile. The servers will carve the meat onto your plate. You can have traditional South African foods, such as "pap" and sauce or baked potato with your meat. The Carnivore Restaurant offers a buffet-style meal – when you have had enough, you can lower your flag to surrender! The restaurant also offers an extensive selection of desserts with your tea or coffee.
The Boma
The Boma can cater for 200 people and offers buffets or formal functions. It is a popular venue for weddings and team-building meals. It has a fireplace in the middle, which contributes to its ambience.
Things to Do at The Misty Hills Country Hotel and Spa
You won't get bored at the Misty Hills Country Hotel. Here are the activities you can do:
Use the Gym
The gym is in the pool area. It is not a large gym, but it offers essential gym equipment to cater for most people's workout needs. It is open from 5:00 in the morning until 19:00, but you can arrange with the reception staff to have a workout outside these hours.
Spend Time at The Pool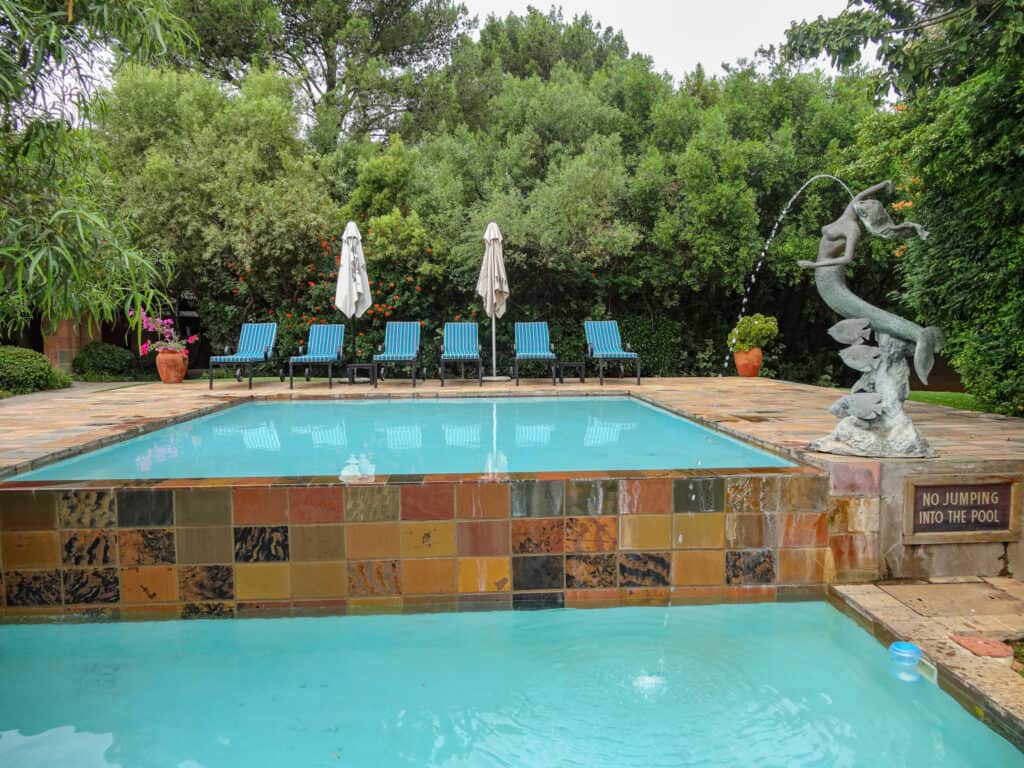 There are three beautiful pools at Misty Hills. There is a pool for adults and for kids. You can order drinks from the poolside bar. Misty Hills has a signature drink, the Dawa, a cocktail of vodka, lime and honey. Delicious!
The pool area has comfortable swinging beds and table tennis to keep you comfortable and busy.
Have Some Fun with The Kids at Peregrine Castle
Kids will enjoy Peregrine castle. There are many hiding spots and several slides for loads of fun.
Spa Facilities at The Misty Hills Country Hotel & Spa
Misty Hills Country Hotel's spa is perfect for some pampering. It has been voted as a top spa in South Africa. The spa uses indigenous African herbs, spices and flowers in their treatments. Treatments range from massages, aromatherapy and reflexology to water treatments.
Play a Game of Chess
There is a giant chess board on the grounds of the Misty Hills Hotel. The chess pieces have authentic African designs, making a game of chess a uniquely African experience.
Helen's Orchid Pavillion at The Misty Hills Country Hotel
Helen's Orchid Pavillion is small, but it features some beautiful orchids. It is worth taking a walk through the pavilion.
Exploring the African Art in The Gardens
African art is everywhere at Misty Hills. Spend some time exploring the Misty Hills gardens to see various African animals and other figures.
Buy Some Souvenirs at The Curio Shop
There is a small curio shop at Misty Hills, near the reception building, if you are looking for some African souvenirs.
Explore the Surrounding Areas
There are several local attractions you can visit while staying at Misty Hills. These include:
The Lion and Safari Park
Sterkfontein Caves
Walter Sisulu National Botanical Gardens
Hot air ballooning
Rhino and Lion Park
Wonder Caves
Kromdraai Gold Mine
Silverstar Casino in Krugersdorp
Boer War Blockhouse
Maropeng Visitors' Centre in the Cradle of Humankind
Misty Hills Country Hotel Contact Details
You can contact the Misty Hills Country Hotel and Spa at the following numbers: +27 (11) 950 6000 or +27 861 732 237
Misty Hills Muldersdrift's address: Muldersdrift Estate plot 69 Drift Boulevard (R114), Muldersdrift, Gauteng, South Africa. The GPS coordinates for Misty Hills are S 26° 01.734' E 27° 51.407'
You can email the Misty Hills Hotel in Muldersdrift at: sales@rali.co.za.
Tips for Staying at The Misty Hills Country Hotel in Muldersdrift
Misty Hills Country Hotel is a cashless environment to protect staff and guests. They accept all major credit and debit cards.
Parking is free, but try to park as close to your room as possible, especially if you want to explore the surrounding areas.
Why not visit Croc City Crocodile and Reptile Park while staying at the Misty Hills Country Hotel? Read more here!
Misty Hills' grounds are large, and the layout can be confusing. Use the valet to transport your luggage from your car to your room, as parking may be far from your room. The valets use golf carts to transport luggage and people.